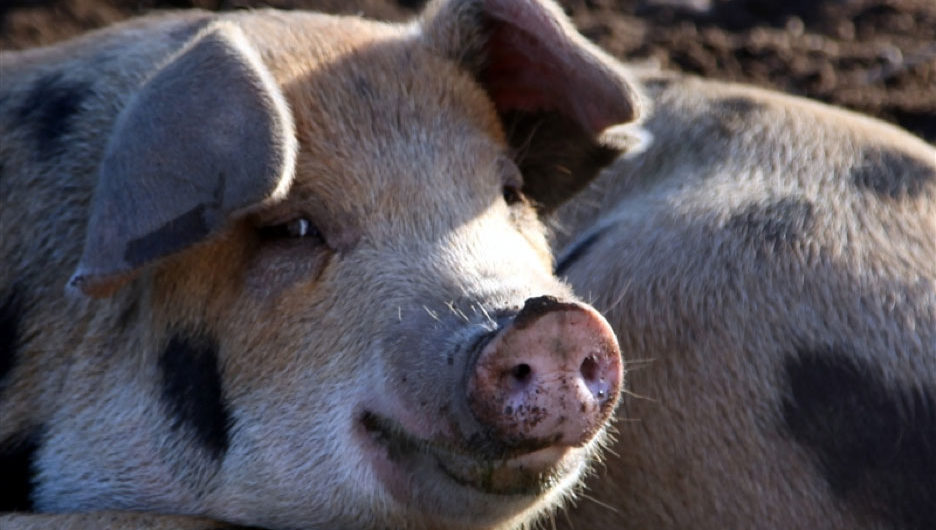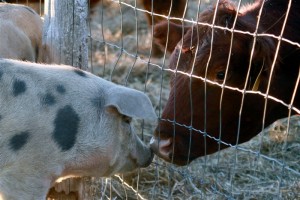 Our pigs are raised outside and have the freedom of fresh air, sunshine, plenty of room to root, run, play, and enjoy taking mud baths. They forage on green grasses in the warmer months and hay in the winter months. We supplement them with fresh fruits and veggies seasonally.
Our pork is lean, moist, beautiful in color, and outstanding in texture and taste, coming from our pigs whose breeds are Duroc and Yorkshire.
We raise and sell pastured pork by the individual cut, the quarter, or the side throughout the year. Quarters weigh approximately 40 pounds and sides weigh approximately 80 pounds. The cuts are vacuum-packed, labeled, and flash frozen. Included in a bulk pork package are chops, ribs, Butt, tenderloin, bacon, sausage, pork loin, and ham. All smoking is nitrate free. The price for bulk pork is $10.00 per pound. Please visit the bulk products page for the exact standard break down of cuts included. You can contact us anytime to order individual or bulk pork and inquire about availability.