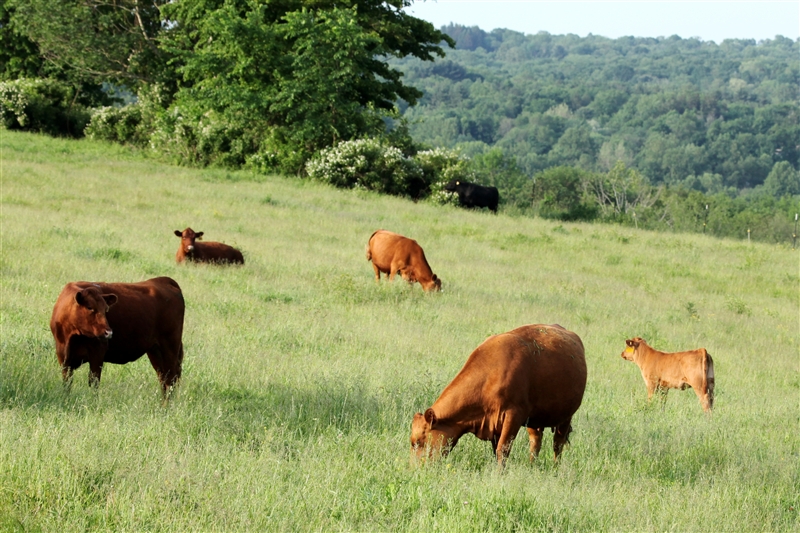 In order to produce tender and flavorful grass-fed beef, the type of cattle raised is of the utmost importance. At Stuart Family Farm, we raise Red Angus cattle that are able to easily convert grass into incredible tasting beef. Our breeding bulls are backed with very desirable untrasound data scores (top 5th percentile) for marbling and tenderness. We currently have three breeding bulls that were purchased from Pharo Cattle Company in Colorado. The Pharo program is considered by many to be the leading supplier of grass-fed bulls in the country.
Our cattle are bred to perform on nothing but grass.
We are an Animal Welfare Approved Farm.
We are the first independent family farm in Connecticut to be granted the top award of being Certified Grass Fed by a Greener World (AGW) for beef cattle.
All of our animals are raised exclusively on grass and hay that is grown and harvested on our farm.
We do not use growth hormones and our cattle are not fed antibiotics.
We do not feed our cattle grain, corn, or starches of any kind.
We do not feed any animal bi-products to our cattle.
Our beef is processed at an Animal Welfare Approved and federally inspected (USDA) plant under the supervision of a USDA veterinarian.
Our beef is sold cut, individually labeled and vacuum-packed.
100% Grass Fed, Grass Finished beef has an incredibly satisfying taste with richness and texture and has numerous health benefits including:

Leaner and lower in calories than feedlot beef.
High source of Omega 3 Fatty Acids which are known to fight against heart disease, high blood pressure, high cholesterol and may reduce the risk of cancer.
A source of CLA (Conjugated Lineolic Acid) which has shown to possibly reduce cancer risk and to be a potent defense against cancer.
A high source of Vitamin E which is an anti-oxidant linked with a lower risk of heart disease and cancer.

We nurture our hay and grazing fields organically and provide our cattle with free choice of organic vitamins and minerals as supplementation for optimal health.